Conducting Effective Focus Group Discussions
In qualitative research, focus group discussions are a great way to gather valuable insights and data from a wide range of people. At marketgenics.co, we take a thorough approach to conduct FGDs, making sure that the research objectives are fully understood. This blog post will explain how we conducts FGDs in qualitative research, and provide an insight into our effective methods.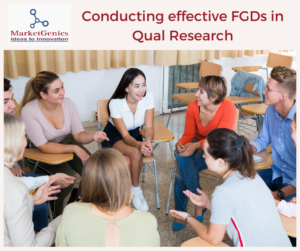 Comprehending the Purpose and Objective of the research
Before beginning any FGD, it is important to understand what the goal and objectives are. Our team works closely with clients to establish research objectives, target audience, and desired results. This information helps in creating appropriate discussion guides, and selecting the appropriate participants to ensure that the discussion is in line with the research goals.
Creating a detailed discussion guide
A great discussion guide is the foundation of a great FGD. MarketGenics.co puts a lot of effort into creating a detailed discussion guide that guides the discussion through pre-defined topics and questions. This guide serves as a road map, making sure that everything is covered during the session and giving you the freedom to dig deeper into important topics.
Selecting and Recruiting Participants
When running a FGD, it is important to find the right participants. We look for people who represent your target audience and have different perspectives related to your research goals. We use a variety of methods to find the right people, such as online surveys, phone calls, or partnering with recruitment agencies.
Discussion conducted by skilled moderators
The best way to conduct a FGD is with the help of skilled moderators. Our moderators have years of experience leading FGDs, so that residents are in an environment that is comfortable and neutral, allowing them to share their thoughts and ideas freely.
Conducting FGDs
On the FGD day, which can be either offline or online, where respondents share their thoughts, ideas, and experiences about the research topics. A moderator will lead the discussion, often with an observer from client's team, and will use a predetermined discussion guide to conduct the discussion but in a flexible way.
Analysing the data
The next step after the FGD is to analyze and extract insights from the collected data. We review the audio or video recordings, prepare transcripts of the same and extract insights and patterns to create a comprehensive report. This report will highlight key findings, emerging topics, and provide actionable recommendations for our clients.
To Sum Up
To sum up, FGDs for qualitative research are a complex and methodical process that requires careful planning, careful participant selection, skillful moderation, and detailed analysis. MarketGenics.co is committed to delivering FGDs that provide our clients with valuable insights and help them make better decisions.